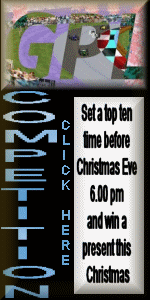 Ok to celebrate christmas and the release of Harewood Hillclimb I am going to run a competition. All you have to do is set a top 10 fastest time. The competition will close at 6.00 p.m on Christmas Eve and those with a top ten time will be sent a Christmas Present. Please dont ask what the prize is as I can't say, but its a addictive and well worth ago.
Rules
1 Standard Chassis with standard engines. I will decide if you are cheating!!!!
2 Set a lap and save the replay. Now load up GPL Replay Analyser and select your fastest lap and then use the option to save replay lap. Please do this as I will not accept replays which are 4 meg long. Please zip it up and send it to stuartc8@aol.com file should be around 500k when zipped. This Lap time table is going to be big so even if you are not in the top ten time send it so you can see how you compare. You never know might send to first 100 times if we get 10000 entries. Hmm might need some help if we get that many. Fastest time replay will be available after the first week to download so you can see where to improve. After that it will be available when ever a new fastest time has been set.
3 The driving rules are :you can go off road but you are not allowed to cut inside the tyres on each set of corners or the haybales. Any other type of cheating like wall riding or any other bizarre cheating will not be accepted.
4 So off you go and enjoy. Please accept my decision if I think you are cheating. Also please let me know if you think there are any other rules I should include!!